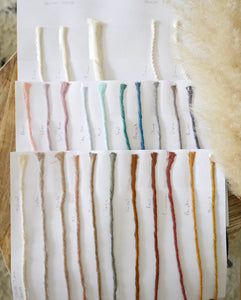 SAMPLE PACK STRING /ROPE
The best way to see the real colours and the premium quality string and rope we have in stock ✨
DESCRIPTION :
100% cotton samples, premium quality
Natural string in 3mm/5mm/9mm
Coloured string in 3mm (21 colours)
Natural rope in 3mm/5mm
Great for macrame, weaving and other finer arts.
Perfect for

creating small macrame pieces (jewelry, keyring, coasters macrame, mini macrames...)

Soft on the hands
Easy to use 
Fiber can be combed out to create very soft look and fine fringe.
SHIPPING :
For a local delivery, your item will be processed through a courier company who will contact you to arrange delivery. For an International delivery, your item will be sent through Emirates post.

// Within Dubai : 2-3 working days Express
// Within UAE: 2-5 working days Express
// International: 2-15 days (Express 2-8 working days / Standard 10-15 working days)
Please do not hesitate to contact us if you have any questions or in need of different dimensions, material or design.